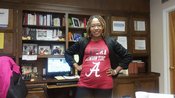 Demica Sanders - Superintendent
With over 40 years steeped in tradition, Midfield City Schools has been educating and providing students for the rigor of college, as well as leading fulfilling and productive lives. We are committed to continuing our legacy of success by developing students into tomorrow's leaders. Midfield City Schools' students represent the future, and we will ensure that they will become instruments of change in their communities.
Midfield City Schools is comprised of three schools: Midfield Elementary School (K-4), Rutledge Middle School (5-8), and Midfield High School (9-12). Welcome to Midfield City Schools; A Tradition of Excellence which leads to a pathway of success!
Thank you for your continued support!
Demica Sanders